One of Christ's modern Apostles, Elder Quintin L. Cook
said
in the
October 2013 General Conference
, "My purpose is to review many forms of bondage and subjugation." I feel like I am united with him "In presenting this voice of warning." I yearn to see all free from the bondage they are facing. In showing us how we become bound Elder Cook further states, "Turning from the worship of the true and living God and worshiping false gods like wealth and fame and engaging in immoral and unrighteous conduct result in bondage in all its insidious manifestations. These include spiritual, physical, and intellectual bondage and sometimes bring destruction.... Bondage, subjugation, addictions, and servitude come in many forms. They can be literal physical enslavement but can also be loss or impairment of moral agency that can
impede our progress
." (emphasis added) Our Heavenly Father is our FATHER. He is perfectly loving to all of us and wants us to inherit all he has. John testifies of His love when he said, "For God so loved the world that he gave his only begotten Son, that whosover believeth in him should not perish, but have everlasting life." (John 3: 16) Our Father wants us to choose truth to become free and progress.
People can see how addictions can keep us bound. People who are alcoholics have their lives revolve around alcohol. The same goes for tobacco, Narcotics, and other drugs. Elder Cook says it best when he said, "Addictions that impair agency, contradict moral beliefs, and destroy good health cause bondage. The impact of drugs and alcohol, immorality,
pornography
, gambling, financial subjugation, and other afflictions imposes on those in bondage and on society a burden of such magnitude that it is almost impossible to quantify." He also points out others which can bind us, "Some addictions or predilections, while not inherently evil, can use up our precious allotment of time which could otherwise be used to accomplish virtuous objectives. These can include excessive use of social media, video and digital games, sports, recreation, and many others." For example, My companion and I taught a young woman who had two children. They were wild, just as children are. They were playing on the television, and being loud. I perceived they wanted someone to play with them, and give them attention. We, as missionaries, can only do so much. She sat at her computer, playing a game. When they got loud and interrupted her game, she got angry. This kind of bondage not only binds her, but it bound the growth of the family relationship.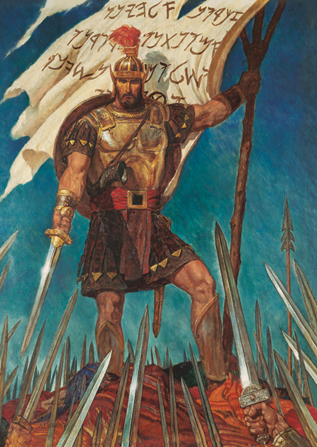 Captain Moroni, a man who loved his country, fought for
true liberation. (Alma 46: 12-28) We, too, ought to fight for
spiritual liberation
Addictions are easy to see people being bound by them, but their are others which bind people. Elder Cook says it perfectly when he said, "The most universal subjugation in our day, as it has been throughout history, is ideology or political beliefs that are inconsistent with the gospel of Jesus Christ. Substituting the philosophies of men for gospel truth can lead us away from the simplicity of the Savior's message."
For example, their is a member, who converted. I have had the wonderful pleasure of talking to him and to ask about his conversion story. He was of another faith for his whole life. Yet, when he began investigating our church, he realized he didn't know too much about his faith. So, he began looking. He came across the official website for that faith. It was then when he saw they were inconsistent from one place to another. He said, "Most people who go to church... hear everything from the pastor." Some pastors say, "Don't look at any other religion." One of the truths we know, is that the Lord will answer our prayers through the Holy Ghost (some also say that you can't get answers until you are baptized). Their are many forms of bondage. As a member of the LDS church, I know I can ask God, through prayer for answers and He will guide me. I am not afraid to learn about other religions, and neither are other members,
studies show
. It is because of the truths we know. I invite others to loose their shackles of fear. Elder Anderson said it perfectly in
April
, "I like the story of Andrew, who asked, 'Master, where dwellest thou?' Jesus could have responded with the location of where He lived. But instead He said to Andrew, 'Come and see.' I like to think that the Savior was saying, 'Come and see not only where I live but how I live. Come and see who I am. Come and feel the Spirit.' We don't know everything about that day, but we do know that when Andrew found his brother Simon, he declared, 'We have found … the Christ.'"
I promise, that when you "come and see" you will be able to proclaim, and Andrew did, "We have found... the Christ" or more specifically, "We have found Christ's kingdom." You will have your fear replaced by faith. You will be free. I have
experienced it for myself
I know you can too. I hope I have shed some light on your question, "How does the truth set me free?" Keep looking for truth.