Within all of our lifetimes, afflictions strike each of us to the very center of our being, often times, more than once. For us in that very moment, we might ask ourselves, "why me? What did I do to deserve this?" Some, seeing others afflictions, ask, "why is that child growing up in such a miserable place?" When people get to this point, many, if not all, think to themselves, "is there really a God? If God was good, He would not allow all this evil to rampage all around the world. If God cared, He would not allow all this bad to happen to me."
This past week, we focused on hope. Faith, and hope are necessary and inseparable. Mormon taught, "How is it that ye can attain unto faith, save ye shall have hope?... if a man have faith he must needs have hope; for without faith there cannot be any hope." (
Moroni 7:40
,
42
) last week, I spoke of Faith. I do not wish to further explain it from that perspective. Rather, I feel the desire to share with you why we need hope. In moments of pain, and suffering, we, too often, miss the larger picture. There is a future to which we can look forward. Surely as the night is dark, no matter how long it seems, the sun will rise, and shed light on those areas which need lit. This is necessary to experience joy. James E. Faust observed, "If pain and sorrow and total punishment immediately followed the doing of evil, no soul would repeat a misdeed. If joy and peace and rewards were instantaneously given the doer of good, there could be no evil--all would do good and not because of the rightness of doing good. There would be no test of strength, no development of character, no growth of powers, no free agency. ... There would also be an absence of joy [and] success, [and] eternal life.."
The prophet Lehi explained this same principle to his sons saying,"To bring about [God's] eternal purposes in the end of man... there was an opposition; even the forbidden fruit in opposition to the tree of life; the one being sweet and the other bitter. Wherefore, the Lord God gave unto man that he should act for himself. Wherefore, man could not act for himself save it should be that he was enticed by the one or the other... all things have been done in the wisdom of him who knoweth all things... men are, that they might have joy." (
2 Nephi 2:15-16
,
24-25
)
The Lord has said, "I will bring [my people] through the fire, and will refine them as silver is refined, and will try them as gold is tried: they shall call on my name, and I will hear them: I will say, It is my people: and they shall say, The Lord is my God."(
Zechariah 13: 9
) Have you ever seen beautiful gold jewelry which hasn't been refined? Can a diamond exists without extreme pressure and heat? So it is the same with us. Ralph Parlette observed, "Strength and struggle go together. The pursuit of easy things makes men weak."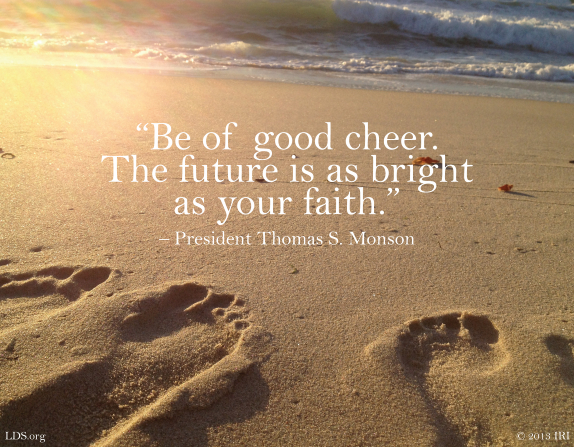 God has placed a plan before us to inherit the maximum amount of Joy. We just need to continue with this journey, no matter how difficult it may seem. "Verily, verily, I say unto you, if they reject my words, and this part of my gospel and ministry, blessed are ye, for they can do no more unto you than unto me. And even if they do unto you even as they have done unto me, blessed are ye, for you shall dwell with me in glory." (
Doctrine and Covenants 6: 29-30
)
An old proverb states, "a smooth sea never made a skilled sailor" There is a quote by Bruce Lee, and it is my invitation to you. "Do not pray for an easy life, pray for the strength to endure a difficult one." So "Be of good cheer, the future is as bright as your [hope]."