The next step in the continuation of the journey of becoming more Christ-like takes us to the most important trait God has. I like to build up to the subject, but the name is in the title. I have spoken on this topic before; however, new insights have been revealed, and confirmations of "old" thoughts are important as well
In high school, I wasn't the most "loving" person. To be honest with you, I didn't enjoy the company of a whole lot of people except for the small group with whom I associated myself. I would say, "I don't like people." Primarily, because I didn't have love for anybody, other than myself. Yes, this is what is known as pride. I was quite a prideful young man. This attitude continued after high school and followed me. This was because I didn't want to let it go. But, I see I have changed. I am well aware that people do quite a bit of less-intelligent things, but I love them anyway. So, what changed? I began serving the Lord "full-time." I began to be a missionary for the Church of Jesus Christ. As a Latter-day Saint, it was almost my duty to do so. When I left, I forgot myself. I began serving my brothers and sisters in the southern United States. The big change occurred during the very first 40-day fast. I humbled myself, and found I wanted the eternal well being of those I was teaching. So, I gave things up. Things that were holding me back. Among them where attitudes and behaviors. At this moment, I felt the pure of of Christ.
Mormon, the prophet who compiled the Book of Mormon, taught, "charity suffereth long, and is kind, and envieth not, and is not puffed up, seeketh not her own, is not easily provoked, thinketh no evil, and rejoiceth not in iniquity but rejoiceth in the truth, beareth all things, believeth all things, hopeth all things, endureth all things." (
Moroni 7: 45
) Yes, this is practically the same principle taught by the Apostle Paul, "Charity suffereth long, and is kind; charity envieth not; charity vaunteth not itself, is not puffed up, doth not behave itself unseemly, seeketh not her own, is not easily provoked, thinketh no evil; rejoiceth not in iniquity, but rejoiceth in the truth; beareth all things, believeth all things, hopeth all things, endureth all things." (
1 Corinthians 13: 4-7
)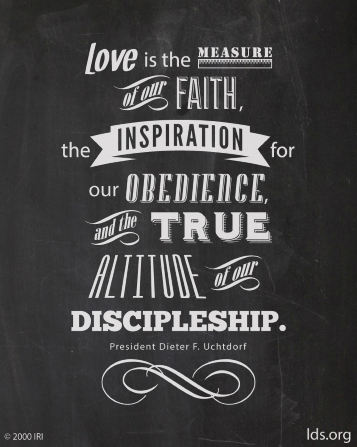 I often wondered how charity endures forever. It is unfathomable for me. Then, through
my studies
, I found that charity is "The highest, noblest, strongest kind of love, not merely affection; the pure love of Christ." I, being a young man, know very well what "love" is in the sense of affection or romance, but have never understood actual "Christ-like love." As I have studied deeper, I found the love of Christ prompted Him to do what He did for us. So, it should be the same for us. We ought to be prompted by charity to act. In other words, we ought to help out of Love for our fellow man. Our Bible Dictionary sheds further light on the subject. Charity "is never used to denote alms or deeds of benevolence, although it may be a prompting motive."
At one point in my mission. We were working with a Less-active member who became addicted to self-destructing behavior/substances. He did, however, have a desire to quit, but was afraid he didn't have the strength. One of the things he had remembered in the Church was the temple. It had left a strong impression on him. He had been to the temple before and desired to go again. So, we invited him to church. There, He met up with a long lost friend, who was active. He met up with an active part of his extended family. People who he barley knew came up to him. It was not just a hand shake, "an holy salutation," as Paul describes. This kind of greeting was not a hand shake, but a hug, an embrace of love. Every one of them embraced him. This is the kind of actions we ought to see more in the church, and in society. It tells the person you are embracing, "I love you," "I care about you," "I desire to see you better." Charity is the center of
Zion
. The pure love of Christ is the only why we will
achieve Zion
. That is why "Love" is the
GREATEST COMMANDMENT
.
This is how I close all my e-mails.
This is how I close this post to you.
My admonition to you is abide in "faith, hope, [and] charity, these three..." and remember "the greatest of these is charity." (
1 Corinthians 13: 13
) "Wherefore... pray unto the Father with all the energy of heart, that [you] may be filled with this love, which he hath bestowed upon all who are true followers of his Son, Jesus Christ; that [you] may become [a child] of God... that we may have this hope; that we may be purified even as he is pure. Amen." (
Moroni 7: 48
)