In a past area, my companion and I knocked on a door. The response on the other side came from an old scratchy weak voice that yelled, "COME IN!" We slowly opened the door and he said in a high volume, "come in!" As a result, we walked into his home. We visited him several times. But, nothing has impacted me more than what he told me on one occasion. He said (breathing after every third word), "when I was your age, I was wild. I didn't want to listen to my parents or go to church. I had plenty of fun with women and my friends, but I wish I didn't. I wish I was like you, preaching the word of God. Boy, I sure regret it. I'm sure my life would be different."
I've reached the age when I can look back and have some regrets, not as much or as big as "Jim." But I still find I think to myself, "I missed out on this because I didn't do that," or "I missed out of that because I did this." Experiences like these give me knowledge that I can share with those younger. Much like how Jim shared his experiences with me. This advice is shared out of the goodness of my heart, but most of the time, they do not listen. This is the same frustration parents have with their children. The teenagers seem to believe they know it all, and don't heed their parents' counsel, dooming themselves to the similar mistakes their parents made. This cycle has occurred since the existence of the idea of "parents." God has given us His words to be able to follow so we may not have regrets when we "return home." We have been blessed with the Word of God. and when we heed His words, we are blessed with happiness, and peace. When we don't, we are cursed with sorrow, regret, and guilt.
So, I encourage you to read the words of the God of Abraham, Isaac, and Jacob. For he has commanded everyone to read all things claiming to be from God. Through the Apostle John, He commanded "Beloved, believe not every spirit, but try the spirits whether they are of God: because many false prophets are gone out into the world." John further reveals what we need to look for, "Hereby know ye the Spirit of God: Every spirit that confesseth that Jesus Christ is come in the flesh is of God..." (
1 John 4: 1-2
) The words which I share are prophecies concerning the state of the Kingdom of God on Earth in the last days before His second ministry. For behold "many false prophets shall rise, and shall deceive many." (
Matthew 24: 11
) We have seen many be lead away. There is only, "One Lord, one faith, one baptism." (
Ephesians 4: 5
) I compile this post as a testimony to you the psalmists prophecy, "Truth shall spring out of the earth" (
Psalms 85: 11
) has been fulfilled.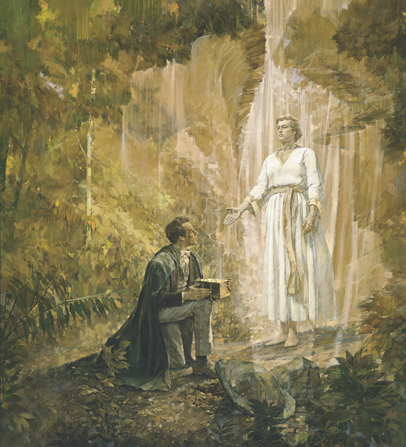 "Truth [has sprung] out of the earth" -- Psalms 85:11
The Lord told His servant, Ezekiel, to take "one stick, and write upon it, For Judah, and for the children of Israel his companions..." (
Ezekiel 37: 16
) To fully comprehend what the Lord means by this, we must understand how they lived in that time. There was not printing presses used for publications for books to be published. They used scrolls bound around sticks. When the Lord commanded Ezekiel to take the stick and write upon it "for Judah," He is sharing a prophecy concerning the scripture the descendants of Judah will write. This set of scripture is not ONLY for Judah, but it shall proceed from this tribe of Israel, and be for EVERYONE. Yes, this is a prophecy concerning the coming forth of the scripture known as "The Holy Bible." The Lord proceeds to tell Ezekiel, "then take another stick, and write upon it, For Joseph..." (
Ezekiel 37: 16
) When this next part of this passage is seen in the same way. It is referencing a set of scripture written by the descendants of Joseph, the son of Jacob, and that it would be, "for all the house of Israel his companions." (
Ezekiel 37: 16
) Because they are for EVERYONE, the Lord said, "join them one to another into one stick; and they shall become one in thine hand." (
Ezekiel 37: 17
) This unity is necessary for us to return to the presence of our Father. This unity is what will bring us "immortality and eternal life." (
Moses 1: 39
) Isaiah truly foretold this moment. He spake of a book which would come forth in the last days, "in that day shall the deaf hear the words of the book." (
Isaiah 29: 18
) It was written that it would come forth in a day, "the Lord hath poured out... the spirit of deep sleep, and hath closed [the people's] eyes: the prophets... the seers hath he covered." (
Isaiah 29: 10
) And that "the vision of all is become unto you as the words of a book that is sealed..." (
Isaiah 29:11
) Which tells me the visions and prophecies of the ancient days with prophets seers and revelators will be restored with the coming forth of this sealed book. And the Lord, "will proceed to do a marvellous work among this people, even a marvellous work and a wonder. " (
Isaiah 29: 14
) Even as the prophet Ezekiel promised, "[the Lord] will gather the [children of Israel] on every side, and... will make them one nation... and one king shall be king to them all: and they shall be no more two nations, neither shall they be divided into two kingdoms any more at all... and they all shall have one shepherd: they shall also walk in [the Lord's] judgments, and observe [His] statutes, and do them." (
Ezekiel 37: 21-22, 24
) Even Jesus Christ spoke of this glorious moment, "other sheep I have, which are not of this fold: them also I must bring, and they shall hear my voice; and there shall be one fold, and one shepherd." (
John 10: 16
)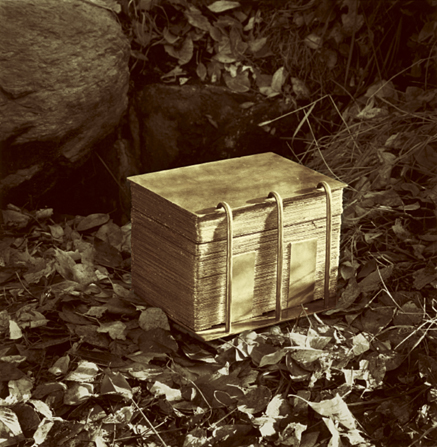 The "Stick of Joseph" is the voice of a fallen
people "crying from the dust."
I testify the sacred book Isaiah spoke of to gather the scattered flock of Israel is the stick of Joseph Ezekiel joined with the stick of Judah, and I know it is known to us today as
The Book of Mormon: Another Testament of Jesus Christ
(see
2 Nephi 27
). Those prophecies have been fulfilled, because the Book of Mormon was written by descendants of Lehi who, "found upon the plates of brass a genealogy of his fathers; wherefore he knew that he was a descendant of Joseph; yea, even that Joseph who was the son of Jacob, who was sold into Egypt, and who was preserved by the hand of the Lord, that he might preserve his father, Jacob, and all his household from perishing with famine. (
1 Nephi 5: 14
)
Jesus Christ spoke of the fulfillment of His promise when he visited them, the descendants of Lehi. He told them, "ye are they of whom I said: Other sheep I have which are not of this fold; them also I must bring, and they shall hear my voice; and there shall be one fold, and one shepherd. And they understood me not, for they supposed it had been the Gentiles; for they understood not that the Gentiles should be converted through their preaching. And they understood me not that I said they shall hear my voice; and they understood me not that the Gentiles should not at any time hear my voice--that I should not manifest myself unto them save it were by the Holy Ghost. But behold, ye have both heard my voice, and seen me; and ye are my sheep, and ye are numbered among those whom the Father hath given me." (
3 Nephi 15: 21-24
) Jesus Christ, Himself, has declared, "in the mouth of two or three witnesses every word may be established." (
Matthew 18: 16
) This law is an eternal law for God is "the same yesterday, today, and forever." (
Hebrews 13: 8
) With the Book of Mormon, He has fulfilled that promise. "the testimony of two nations is a witness unto you that I am God, that I remember one nation like unto another... I speak the same words unto one nation like unto another. And when the two nations shall run together the testimony of the two nations shall run together also. And I do this that I may prove unto many that I am the same yesterday, today, and forever; and that I speak forth my words according to mine own pleasure. And because that I have spoken one word ye need not suppose that I cannot speak another; for my work is not yet finished; neither shall it be until the end of man, neither from that time henceforth and forever." (
2 Nephi 29:8-9
)
I share these observations to give you the opportunity to hear the words of my ancient fathers and to
not reject more of God's light
. As their "voice shall be, as of one that hath a familiar spirit, out of the ground, and [their] speech shall whisper out of the dust." (
Isaiah 29: 4
) that is
my purpose of sharing what I know
. My ancestors "cry from the dust; yea, even repentance unto their brethren, even after many generations have gone by them." (
2 Nephi 3: 20
) My invitation to you is to listen to the still smalls enticing's of the Spirit of the Lord, and read their ancient cries which, have sprung forth out of the earth to testify of truth.