Good afternoon, my brothers and sisters, It is a pleasure to be given the opportunity to speak to you this Sabbath day. Many of you know who I am, and what I am doing here. I am a missionary, and I am here to share the gospel. However, fewer of you know the answer "why?" Sure, you can guess the general, generic answers, but what about my being here personally? Today, I am going to answer the question, "Why is Elder Moss on a mission?"
Most missionaries have a really similar life story. "I was raised in the church, and it was just kind of expected of me," or "I grew up in the church, and I always knew I was going to serve a mission." But, I am excluded from those reasons, mainly, because I was not raised in the church. As a matter of fact, I didn't consider myself a Christian. I considered myself a "spiritual" person, and that was all I needed. Sure, I was taking lessons from the missionaries, but I didn't want to change. My spirituality was enough. Then, the time came when I had to, not question my spirituality, but to test it. It was a shame I didn't do it earlier. At this point, I had a baptismal date, so I thought, "I might as well find out what I am getting myself into...
"I locked myself in my bedroom prayed to God (Heavenly Father in the name of Christ) and began to read. As I read, I was thinking about religion (which you should be when reading). I was pondering my beliefs and the truths I knew. I thought and connections were being made. I thought about the fact all things are brothers and sisters. We were all created by our Heavenly Father (or Creator). Spiritually all who have lived, are living, and will be living are MY brothers and sisters. Then, I thought about what I had been through. I thought about my role as a brother in those situations. I was reminded of my duties as a big brother. The feeling of it started out in my heart, but expanded until it had reached my extremities. I knew it was the Love of God and Jesus Christ which brought that feeling, not the love of the foster family. I know Christ is my Savior." -- My Foundation
As I sought this spiritual experience, I received a spiritual answer. My experience is this, the true church of Jesus Christ will make you become more spiritual than in any other practice, and the divine joy, and eternal love I felt confirmed to me that this is the correct path. When I was baptized, much of the family I grew up with wasn't too excited. I was the first.
I think of a the first verse of a hymn which says, "
They, the builders of the nation
, blazing trails along the way; stepping-stones for generations were their deeds of ev'ry day. Building new and firm foundations, pushing on the wild frontier, forging onward, ever onward, blessed, honored pioneer." Ever since we were small children, my siblings have looked up to me, many still do. This is the reason I am serving. I know I will be able to influence my family as a modern-day pioneer. As a missionary, not only am I laying "stepping stones for generations... Building new and firm foundations..." To influence them, but I am seeing and experiencing others doing the same. In a previous area, I was privileged to teach a young woman who had just recently became a mother. This situation is enough to put anyone under stress and confusion. It was made worse to the fact that she was single, and living with her mother. She had no where to turn, but knew she could turn to God. Eventually, she requested missionary visits from
mormon.org
. We taught her and testified of the power of the Gospel of Jesus Christ. Despite the opposition she felt from her friends and family, her choices lead her to the path of baptism.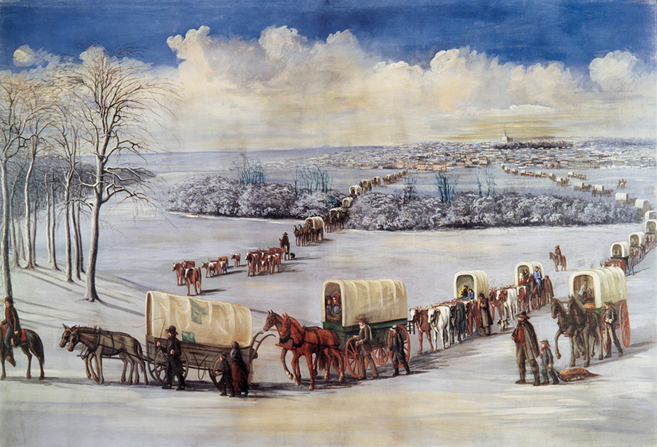 Early Pioneers had faith enough to leave their city "Beautiful"
to open doors of righteousness for generations
This may be a small thing, but it will impact the eternities. In one of the conversations we had with her before she agreed to baptism, she said, "I just thought about when [my son] will be your age, and how he can be a missionary." God knows how many people he will influence in his growing up. As she spoke to us, she found she was pioneering a way to a better life for her son and others just by the click of a mouse. The prophet Alma taught, "behold I say unto you, that by small and simple things are great things brought to pass..." (
Alma 37: 6
) This is the example of pioneers: to do the small and simple things. We, missionaries, are pioneers. I know our full-time missionary service is small, only two years. But we do it to influence others.
As small as our service is our budget is even smaller. As a missionary, we are given enough money to sustain ourselves monthly, but it isn't very much. Nevertheless, we can get by. One of the blessings we have is to be able to join you in your family dinners. This experience is great as we get to know your families. But there is nothing more humbling than members, who are constantly scraping the bottom of the barrel who feed us. We don't want to be a burden on anyone. So we tell them in sincere love, "You don't have to feed us." To this, they reply, "No, no, I insist." "You don't have to give us that much." We plead. But their reply is the same, "No, no, I insist." Those member who insist on providing us meals do it out of the kindness of their heart, not for the blessings which come from it. In one of my previous areas, a member shared with my companion and me her experience with not knowing what she would feed her children for dinner when she awoke in the morning, but she insisted on feeding the missionaries weekly desiring to give her service, and uphold her part of the burden.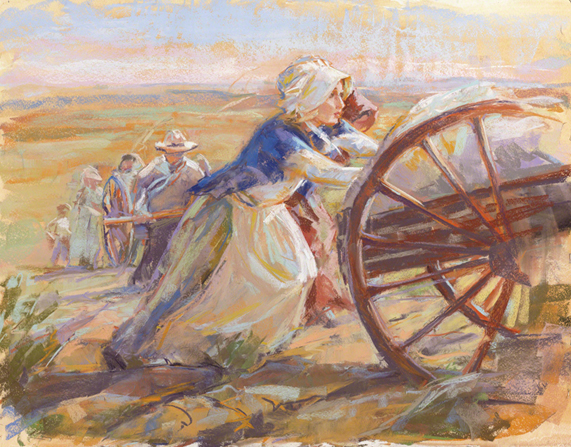 Her action exemplify the second verse of the hymn, "Service ever was their watchcry; love became their guiding star; courage, their unfailing beacon, radiating near and far. Ev'ry day some burden lifted, ev'ry day some heart to cheer, ev'ry day some hope the brighter, blessed, honored Pioneer!" My brothers and sisters, true pioneers, "are desirous to come into the fold of God, and to be called his people, and are willing to bear one another's burdens, that they may be light; Yea, and are willing to mourn with those that mourn; yea, and comfort those that stand in need of comfort, and to stand as witnesses of God at all times and in all things, and in all places... even until death... and be numbered with those of the first resurrection..." (
Mosiah 18: 8-9
) A true pioneer knows, "that when ye are in the service of your fellow beings ye are only in the service of your God," (
Mosiah 2: 17
) and nothing, not even their low income, will stand in the way of their faith.
The final verse of the hymn begins, "As an ensign to the nation, they unfurled the flag of truth, pillar, guide, and inspiration to the hosts of waiting youth." As an ensign of the truth, pioneers are examples to their youth. Not only to their youth, but to everyone around them. These first lines teach us to "preach the gospel at all times, and, if necessary, use words." Both of these women's example have lead to others joining the church within the short span of my service. Of the pioneers of old we say, "Honor, praise, and veneration to the founders we revere! List our song of adoration, blessed, honored Pioneer!" So why not to our modern-day pioneers. Everyone [reading this post] has a divine trait to pave roads of righteousness for generations, and influence the world. I stand here as a witness to that truth. Brothers and sisters, my invitation to you is to become a pioneer. Do small acts of kindness despite your current status to share with the world the truth. I testify to you that when you make serving others a priority, God will look to you at the last day and joyfully exclaim, "Well done, my blessed, honored Pioneer!" in the name of Jesus Christ, amen.