Easter is right around the corner. You know what that means. Children are going to be refilled with candy. You see; there's a system. Candy from Halloween can last until Christmas. They have enough treats from Christmas to last until Easter. This means consumers spending money on candy, dyes, candy, baskets, candy, plastic eggs, candy to put in those eggs, real eggs, candy eggs, and finally bunny and egg shaped candy. Man, it is good to be a child in the land of the free and home of the brave in the 21st century. Good ol' America, where we have holidays just so large companies can make money, and kids can satisfy their desire to become obese, but how did these traditions to get large amounts of sheeple to give away their money begin? Well, at one point these holidays were exactly that: HOLY DAYS.
They were full of symbolism and worship for the almighty. Now, I am sure you know Christmas traditions were created by pagans and adapted to Christianity by the Catholic Church. It is similar… scratch that, it is exactly the same with Easter. You see. It was a celebration of the upcoming growing season. The pagans would have a festival to celebrate their goddess of spring and fertility, Ostre, Ostara, or Eastre. As a matter of fact the female hormone estrogen is named after this fertility goddess. (Just an interesting tid bit of information there.) Now it was believed she had a hare for a companion. This hare became a bunny, and is now known as the Easter Bunny. At this spring festival they brought eggs which was also a symbol of fertility, and spring, which we now know as Easter eggs. Now you have the abridged version of the history of the traditions of Easter. But those aren't the reasons Easter was shared with the world. Christianity is the reason Easter is celebrated today. We are reminded of the pain in the garden of Gethsemane, the imprisonment then lashing and scorning of Jesus Christ as he bore two large pieces of dogwood to Golgotha, the place of skull, where large nails penetrated his feet and innocent hands to that wood he worked with large amount of difficulty to get there. Then he hung there for hours.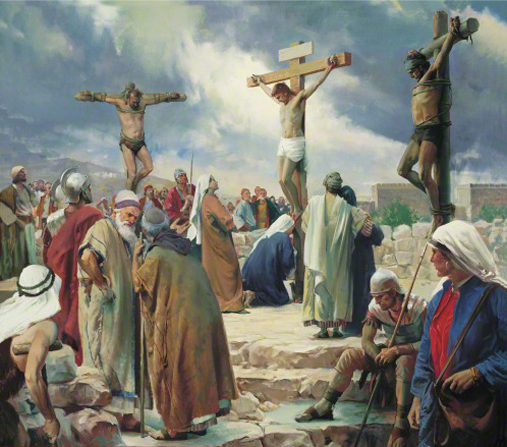 It is recorded he cried out, "Eloi, Eloi, lama sabachthani? Which is being interpreted 'my God, my God, why hast thou forsaken me?'"(
Mark 15: 34
) After this spiritual death, a complete and utter separation from the Father and the Holy Ghost, he gave up his spirit from this mortal existence. Early Christians began dying their eggs red around this time in remembrance of the blood spilled by Christ around this time of year. But we must not forget what happened afterward, Christ did what no man in history had done prior. He reunited His spirit with a physical body just days later. This quickly became a symbol of the resurrection of Christ. Think about it. Out of the hard and red layer comes the life (well in our case food). Eggs have been turned into a symbol of the Atonement, the suffering; death; and resurrection of Christ. Now when I was asked to give this talk, I was asked to speak on this, the sacred Atonement, and how it has changed me. Then, Brother Thompson asked me to share my conversion. The only way I could have been converted was to access the Atonement. Now, I know I am speaking in the past tense, and that's wrong. I am still learning and still in the process of conversion, which is the Doctrine of Christ.
It was these words Nephi used to describe the most important message he could give us before he died writing, "Behold, this is the doctrine of Christ, and there will be no more doctrine given until after he shall manifest himself unto you in the flesh…" (
2 Nephi 32: 6
) President John Taylor said, "It is true intelligence for a man to take a subject that is mysterious and great in itself, and to unfold and simplify it so that a child can understand it." As Nephi said, "my soul delighteth in plainness; for after this manner doth the Lord God work among the children of men. For the Lord God giveth light unto the understanding; for he speaketh unto men according to their language, unto their understanding." (
2 Nephi 31: 3
) I pray my explaining accessing the Atonement to you is according to your understanding.
The first step to access the Atonement is Faith. Paul wrote, "Faith is the substance of things hoped for, the evidence of things not seen." (
Heb 11: 1
) Comparatively, Alma said, "Faith is not to have a perfect knowledge of things; therefore if ye have faith ye hope for things which are not seen, which are true." (
Alma 32: 21
) From these two definitions I believe the complete definition of faith is not to have a perfect knowledge, but the assurance of true things hoped for which have unseen evidence. Let me say that again. Faith is not to have a perfect knowledge, but the assurance of true things hoped for which have unseen evidence.
Here is my example:
Prior to my search in finding the legitimacy of the church, there arose some circumstances which prompted my action. Each of them were significant, but I want to skip over them, and share the turning point of my beliefs. Alma wrote, "if ye will awake and arouse your faculties, even to an experiment upon my words, and exercise a particle of faith, yea, even if ye can no more than desire to believe, let this desire work in you, even until ye believe in a manner that ye can give place for a portion of my words." (
Alma 32: 27
) This was exactly what I did. I knelt on the floor of my bedroom with a copy of the Book of Mormon. I was assured of the truth. I was assured the Spirit would speak to me about the truth. I read in the introduction of the Book of Mormon, "We invite all men everywhere to read the Book of Mormon, to ponder in their hearts the message it contains, and then to ask God, the Eternal Father, in the name of Christ if the book is true. Those who pursue this course and ask in faith will gain a testimony of its truth and divinity by the power of the Holy Ghost. " (
BoM Intro
) Before reading, I offered an awkward vocal prayer saying, "Uh, Heavenly Father… Is the Book of Mormon true?... Um, in the name of Jesus Christ, I guess, amen." Then I proceeded to read. Now, there wasn't a passage, or verse which confirmed it to me. On my mission I saw people change because of a single passage, but you must remember I didn't even believe in Christ. I didn't see a point in Him. I considered myself a spiritual individual, and religious enough. I believed all of us are brothers and sisters. We were all created by the same Creator. This was the foundation of logic the Spirit built His case to me.
"All people are your brothers and sisters. People living now are your brothers and sisters."
"Well, ya"
"All people who will come into the world are your brothers and sisters."
"Ya"
"All people of the past are your spiritual brothers and sisters."
"That's reasonable, ya, they are."
"Now what does it mean to be a big brother?"
I was reminded of all the troubles and hardships I went through to help my brother. I thought of the many foster homes, the adoption gone wrong, and the foster homes again. I recalled the emotional turmoil and the pain, emotional and physical I suffered on their behalf. Then, one thought, one line, was placed in my mind.
"Jesus Christ is your big brother."
I didn't want to accept this, so I pondered on it. The more I pondered, the more a void in my heart filled. I wasn't aware of this void, until now. It felt familiar to me. Like I was truly home. I hadn't felt this kind of love since I was six, living with an LDS foster family, and that was when I realized what I felt then was the love of Christ. This love began in my heart, and proceeded to grow from my bosom until it engulfed my entire body in warmth. I knew what I was reading was true. I had received my answer. This is unseen evidence. This meant I had to act. James wrote, "faith without works is dead."(
James 2
)
The works we need to do is the second step in accessing the Atonement: Repentance. Now I desire to clear up a huge misconception in the minds of members of the Church, Christianity, and the world concerning repentance. This was brought to my mind while I was on my mission serving in the Bible belt, but I didn't understand how widespread this misconception was in the Church until I was talking to a friend who has been a lifetime member. It was in the context of the doctrine of Christ and I asked him to explain how paying tithing is repenting. He began by saying something along the lines of, "Well, if you aren't paying your tithing you need to repent and do it…" Repentance is far too often associated with one first breaking commandments. I want to point out this isn't true. Repentance is the most wonderful gift God has given us. It is the process of change for the better. Nephi wrote, "Wherefore, do the things which I have told you I have seen that your Lord and your Redeemer should do; for, for this cause have they been shown unto me, that ye might know the gate by which ye should enter. For the gate by which ye should enter is repentance and baptism..." (
2 Nephi 32: 17
) I repeat; the gate is both repentance and baptism. My mission president made sure all of his missionaries knew this. One cannot enter baptism without repentance. Christ, our perfect example, was an example for us when he was baptized. Therefore doesn't stand to reason He was the example for us when it came to repentance? After all, He was a spirit who had the Glory of the Father prior to his coming. He could have just came and got a body and left. Instead, He was born, went through the veil, and grew grace by grace. Christ improved Himself. He was perfect not just because He was without sin, but because he repented perfectly.
Making covenants with God gives purpose to our repentance. This is how the Lord blesses us. As we promise to give our desires to the Lord, He promises us blessings, such as cleansing of our sins, peace and happiness, and eternal life. Hence, the third step is baptism. Christ did all of the saving ordinances we need to do. After all, He was our perfect example. He even received the gift of the Holy Ghost. Which is also unnecessary for Him, considering who is was.
The Holy Ghost is what SEALS the changes. It makes those changes permanent. The Holy Ghost changes our very souls to that of a Saintly Nature. I want to point out the Holy Ghost is a member of the Godhead. He has the same glory of our Heavenly Father and Jesus Christ. Once we are given this gift, we are again in the presence of our God. He gives us the glory of God as he provides the remission of sin, and the baptism of fire. Nephi wrote, "then are ye in this strait and narrow path which leads to eternal life; yea, ye have entered in by the gate; ye have done according to the commandments of the Father and the Son; and ye have received the Holy Ghost, which witnesses of the Father and the Son, unto the fulfilling of the promise which he hath made, that if ye entered in by the way ye should receive… after ye have gotten into this strait and narrow path, I would ask if all is done?" Did Christ stop after he left the river Jordan? What about after he left Gethsemane? "Behold, I say unto you, Nay… Wherefore, ye must press forward with a steadfastness in Christ, having a perfect brightness of hope, and a love of God and of all men. Wherefore, if ye shall press forward, feasting upon the word of Christ, and endure to the end, behold, thus saith the Father: Ye shall have eternal life." (
2 Nephi 32: 18-20
) This means to continue to make covenants after baptism, including participating in the ordinance of the Sacrament. This internalizes the change within us, and provides us a way to work on multiple aspects of our life after baptism. This means we can change our fallen nature.
My invitation to you this Easter season is to look beyond the worldly view of the celebration of Easter. As you paint or dip your eggs in red dye, recall the life of Christ remember what he cried in the Gethsemane, "Abba, Father, all things are possible unto thee; take away this cup from me: nevertheless not what I will, but what thou wilt." (
Mark 14: 36
) Then to reflect on yourself, and gain a desire to endure to the end. Write down a list of what you can change, and work on them. Then, always remember what he cried out at the end of his mortal life, "Father, into thy hands I commend my spirit!" And trust in our God to aid you, and keep His promises.
Winston Churchill once said, "To improve is to change; to be perfect is to change often." This is the simple truth the Atonement provides us: to improve. I testify this is the truth of the gospel and doctrine of Jesus Christ as preached by Himself, His ancient apostles, and even more ancient prophets. This is the doctrine taught today by His living prophets and apostles. To improve is to repent; to be perfect is to repent always. I leave this message with you in the sacred name of Jesus Christ, Amen.